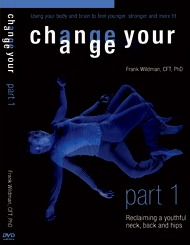 The Change Your Age Program is a powerful, easy-to-follow program that can help you feel years younger by teaching you new ways to move, feel and think.
SALE!

ALL THREE VOLUMES, regularly $129, NOW ONLY $109

SAVE $20
To order your DVDs, either use PayPal (below) or
please contact us via email at
This email address is being protected from spambots. You need JavaScript enabled to view it.
or by calling 800-342-3424 (US only) or 1-510-527-2634.
The Change Your Age Program on DVD comes in three parts:
Reclaiming a Youthful Neck, Back and Hips
Regaining Dexterity and Coordination
Rejuvenating Your Posture and Balance.
Buy the complete Change Your Age Program DVD set for $129-- a savings of $30!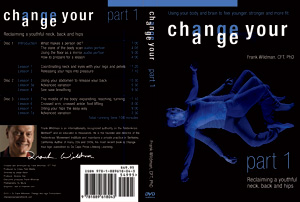 The Change Your Age Program PART 1
PART 1 - Reclaiming a Youthful Neck, Back and Hips

Disc 1 – 44:00 Minutes
Introduction to the Change Your Age Program
What Makes a Person Old? 7:00
The State of the Body Scan (Audio Portion) – 4:05
Using the Floor as a Mirror (Audio Portion) – 9:00
How to Prepare for a Lesson - 4:00
Lesson 1 - Coordinating Neck and Eyes with Your Legs and Pelvis – 17:20
Lesson 2 - Releasing Your Hips into Pleasure – 7:10

Disc 2 – 26:00 Minutes
Lesson 3 - Using Your Abdomen to Release Your Back - 10:30
Lesson 3a - Advanced Variation – 5:30
Lesson 4 - See Saw Breathing – 9:50

Disc 3 – 38:00 Minutes
Lesson 5- The Middle of the Body: Expanding, Reaching, Turning – 17:10
Lesson 6 - Crossed Arm, Crossed Ankle, Foot Lifting – 8:00
Lesson 7 - Oiling Your Hips the Easy Way – 9:00
Lesson 7a – Advanced Variation – 2:30

TOTAL RUNNING TIME – 108 minutes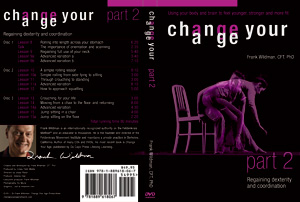 The Change Your Age Program PART 2
PART 2- Regaining Dexterity and Coordination

Disc 1 - 28:00 Minutes
Lesson 8 - Rolling Into Length Across Your Stomach – 6:20
Talk – The Importance of Orientation and Scanning – 2:35
Lesson 9 - Regaining Full Use of Your Neck – 5:40
Lesson 9a – Advanced Variation A – 3:40
Lesson 9b – Advanced Variation B – 7:10

Disc 2 – 29:00 Minutes
Lesson 10 - A Simple Rolling Lesson – 9:10
Lesson 10a – Simple Rolling from Side-lying to Sitting – 3:00
Lesson 11 - Through Crouching To Standing – 3:00
Lesson 11a – Advanced Variation – 8:10
Lesson 12 – How to Approach Squatting – 5:00

Disc 3 – 23:00 Minutes
Lesson 13 – Crouching for Your Life – 3:00
Lesson 14 – Moving from a Chair to the Floor and Returning – 8:00
Lesson 14a – Advanced Variation – 4:30
Lesson 15 – Jump Sitting in a Chair – 4:00
Lesson 15a – Jump Sitting on the Floor – 2:20

TOTAL RUNNING TIME – 80 minutes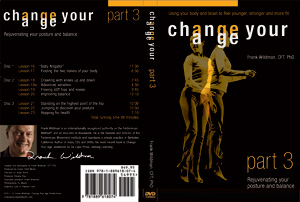 The Change Your Age Program PART 3
PART 3- REJUVENATING YOUR POSTURE AND BALANCE

Disc 1 – 25:30 Minutes
Lesson 16 – "Baby Alligator" – 17:30
Lesson 17 – Finding the Two Halves of Your Body – 6:50

Disc 2 - 32:00 Minutes
Lesson 18 – Crawling with Knees Up and Down – 2:45
Lesson 18a – Advanced Variation - 4:50
Lesson 19 – Freeing Stiff Hips and Knees – 9:45
Lesson 20 – Improving Balance – 13:10

Disc 3 – 30:00 Minutes
Lesson 21 – Standing on Highest Point of the Hip – 10:00
Lesson 22 – Jumping to Discover Your Posture – 10:50
Lesson 23 – Hopping for Health – 7:10

Total Running Time – 88 minutes


To order your DVDs, either use PayPal (above) or
please contact us via email at
This email address is being protected from spambots. You need JavaScript enabled to view it.
or by calling
800-342-3424 (US only) or 1-510-527-2634.